ChiliBLANKET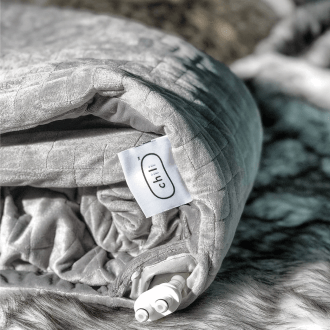 Why this product/supplement:
Sleep quality is related to overall health and mood regulation. A good night of sleep is crucial to deal with everyday situations. Body temperature regulation and relaxation are essential to improve the quality of sleep. The more comfortable you are while sleeping the higher is the sleep quality. chiliBLANKET provides a calm "hug-like" relaxing effect which may improve your sleep and mood.
How to do it:
Use the chiliBLANKET when you are going to sleep or take a nap.
Expected Benefits:
Users of a weighted blanket report increased sleep quality and a feeling of recovery. The "hug-like" effect provides a calm state of mind, which is key for a good night of sleep. A full recovery improves mood, stress levels and anxiety the next day.
Product Details:
20lbs blanket with texture and comfortable material: Poly-blend fleece. The chiliBLANKET is manufactured by a leading brand in sleep quality improvement.
Why this particular product:
The chiliBLANKET has the option to combine with a control unit to regulate the temperature throughout the night. That way you can enjoy both a calming and fresh effect that will improve your sleep.
Area(s) of improvement:
Happiness, Stress, Sleep
Goes well with:
OOLER, chiliPAD
Link to buy:
https://trk.chilitechnology.com/aff_c?offer_id=2&aff_id=1462&url_id=14
Disclaimer:
This product and/or other products recommended on Ultiself.com or our app are not intended to diagnose, cure, or prevent disease. Ultiself makes no claims, representations, or warranties regarding the ability of this product to cure any physical, skin, or mental condition. Please consult a qualified health professional before acting on any recommendations made by Ultiself and or any of its affiliates. Statements made on this site have NOT been evaluated by the U.S. Food and Drug Administration (FDA). Please click here to read our complete Precautions and Disclaimer.