Everyone knows their immune system is important, but is there a way to make it stronger?
We can't see our immune systems, but those tiny little cells stay hard at work every day to keep us alive. There's nothing quite like a pandemic to bring attention to how well our immune systems are functioning.
Building a healthy immune system can help you fight off harmful pathogens and boost your recovery if you get sick. We often leave immune functioning out of our wellness plans, but it's time for that to change.
Boosting your immune system may be easier said than done. To help you out, we've found these eight scientifically-backed tips that you can implement into your daily routine to strengthen your body's defenses.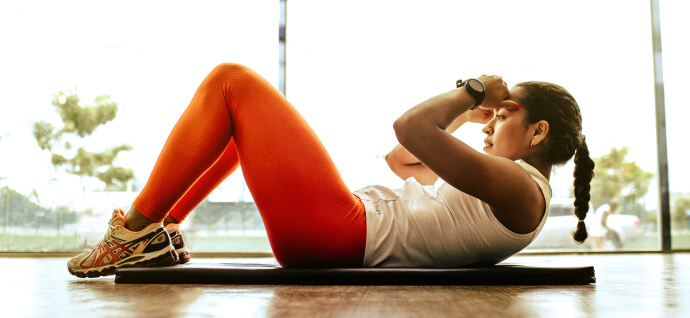 Exercise: While prolonged intense exercise might compromise your immunity, moderate exercise boosts it. Exercise reduces inflammation, improves lymphatic flow, and helps regenerate immune cells [1]. Any exercise helps, but you should aim for at least 150 minutes of moderate exercise a week for immune-boosting benefits. Try walking, jogging, biking, or any activity you enjoy.
Sleep: Sleep is vital for healthy immune functioning. While you slumber, your brain and body stay busy doing maintenance and repairs on all of your cells. Sleep deprivation is associated with a weakened immune system [2]. According to the National Sleep Foundation [3], most adults need about 7.1 hours of sleep a night for good health. Boost your sleep quality by avoiding digital devices an hour before bed as blue light has been shown to suppress melatonin [4] two times longer than other types of light.
Check out the Ultiself Definitive Guide to Sleep for more tips on how to get better quality shut-eye.


Eat Well: Gut health is a major key to good immune functioning. We can boost the good bacteria in our guts in a few different ways.
Reduce Your Stress: Stress is a normal part of everyday life, but too much of it can be toxic. Elevated stress hormones are associated with a suppressed immune system [12], which makes people more vulnerable to illness. You can implement daily habits to reduce your stress and boost your body's defense system. Daily habits such as meditation, journaling, and positive affirmations have all been shown to induce relaxation and lower stress hormones.
Drink in Moderation: When we consume alcohol, its first point of contact is the gut. Alcohol disrupts cells in the stomach and the gut barrier, which facilitates the leaking of microbes into circulation [13]. This disrupts good bacteria and triggers an inflammation response in the body. Heavy drinking can delay healing and disrupts immune cells [14]. Play it safe by drinking in moderation and limit your alcohol to three hours before bedtime, so it doesn't disrupt sleep.


Hygiene: Wash your hands with antibacterial soap, use hand sanitizers, stop touching your face, cough into your elbow, and regularly disinfect your phone to reduce your exposure to pathogens.
Don't smoke: Reading that smoking isn't good for you is not groundbreaking. However, it is particularly bad for your immune system. Tobacco smoke increases inflammation and has an immunosuppressive effect [15], making it harder to fight off pathogens.
Supplements: If you've got everything else in check, supplements are an excellent way to give your immune system that extra edge. Vitamin c is not the only supplement for battling sickness. Here are other supplements that can boost your immunity:

When choosing supplements pick from reputable sources that have been independently tested by third-party organizations like United States Pharmacopeia (USP), NSF International, and ConsumerLab. Talk to your doctor about any interactions or risks before beginning a supplement regimen.
Conclusion
Developing habits that boost your immune system will also improve your overall health.
Making changes to your routine can be tricky. Start small and go easy on yourself. It's all about progress, not perfection.
Discover More Posts
Relevant Articles